There are three current market milestones with bullish implications for stock prices.  The first is the fact that we saw two consecutive days (Monday, the last trading day of 2012, and Wednesday, the 1st trading day of 2013) where 90% of the trading volume in the S&P 500 stocks was up volume.  This is rare.  When it has happened in the past (most recently in early 1987), the market has been up strongly in 100% of the cases 3 and 6 months later.  The following table from Sentiment Trader lays out the data.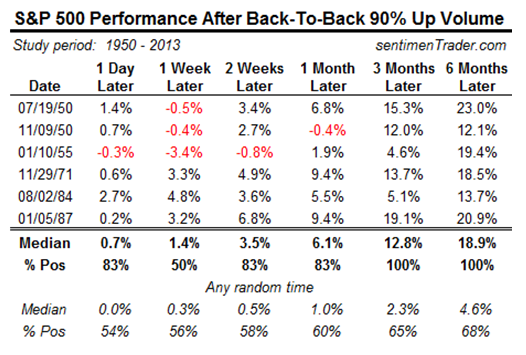 The second milestone is that the S&P 500 was up on a YTD basis for every day in 2012.  This too is extremely rare.  As was reported by Bespoke, "Going back to 1928, there have only been eight other years where the index went an entire year of trading up YTD every single day, with the last occurrence coming more than thirty years ago in 1979".  The table below the following chart shows that the market was up in all but one year in the following 12 months by an average of 10.5%.
The fact that the market remained above the 2011 close all year is remarkable given the uncertainties and mood swings we experienced.  You certainly wouldn't have guessed that outcome given the absolute mad dash to cash we saw in the later part of the year.  Bottom line . . . smart money has been buying as the retail investors panicked over the election outcome uncertainty, fiscal cliff and assorted other big picture concerns.  As John Templeton is reputed to have said . . ."Bull markets are born on pessimism, grow on skepticism, mature on optimism, and die on euphoria".  I dare say we are nowhere near euphoria.
The third milestone is underway.  It is a part of market lore that the first 5 trading days of the year can predict the outcome for the year.  So far, the first 3 trading days have seen a gain of 2.8% in the S&P 500.  If the market is up for the 5 days, history (per the Stock Trader's Almanac) suggests there is an 86% chance that the market will be up in 2013.  If January goes on to be a positive month, then the year has gone on to be positive in 90% of the cases.  It can also be noted that we did see a "Santa Claus Rally" this year in that the market was up the last 5 days of 2012 and the first 2 days of 2013.  The lack of a Santa Claus Rally in early 2000 and 2008 foreshadowed bear markets.  (see Stock Trader's Almanac blog post here)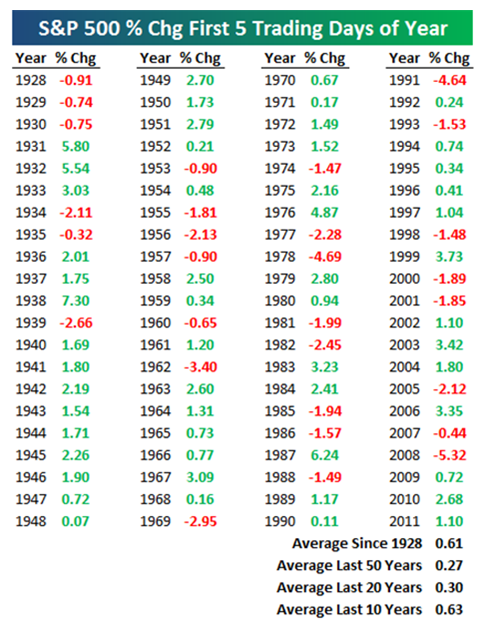 So there you have it.  Three milestones suggesting 2013 can be a rewarding year for those who can bear the risk of buying equities.  Aberdeen's style is to be substantially fully invested at all times – we are ready if the milestones prove to be correct.  Jeb B. Terry, Sr. 1-6-13
Aberdeen Investment Management – a guide service for micro-cap technology investment