We look at our smartphones 150 times per day according to one of our portfolio company's management teams.  That means not only are we spending lots of time on our mobile devices but we are "inspecting" our devices in a way and with a degree of attention that is profoundly more engaged than the way we typically "watch" TV or surf the internet on our PCs.  The TV ad world is driven by measurement of the time people spend watching various shows.  Time spent on mobile devices now far exceeds time spent on PCs.  At the margin – mobile taking time share from all other forms of media.
Here are some comments from Business Intelligence (here) relating to a recent Nielsen study.
People spend seven hours more per month on their smartphones than they do on PCs.  That equates to 27% more time on smartphones than on PCs.
Smartphone hardware improvements and an aggressive rollout of 4G LTE connectivity have led to a snowball effect — people found more opportunities to use apps and mobile websites since cell coverage improved dramatically, and their phones also became better at supporting popular and time-intensive activities — games, streaming video, or viewing photo-heavy social media feeds.
Roughly 58% of the U.S. mobile subscribers aged 13 and above now have smartphones.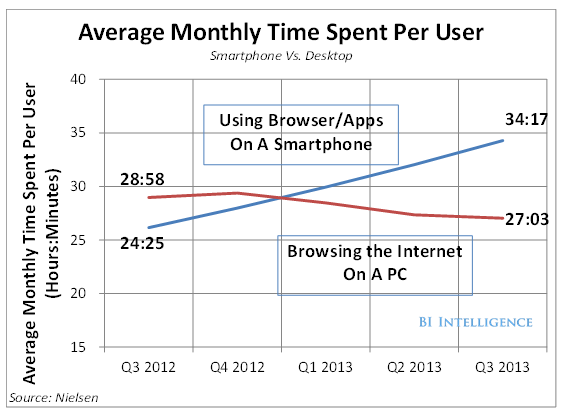 The market for multiple forms of monetization including ads, subscriptions and in-app purchases is still in its early days.  2014 may prove to be pivotal in the shift of ad dollars away from conventional media – think TV – to mobile formats – and by that I mean other than Facebook news feeds and Google searches.
Aberdeen's portfolio is broadly exposed to opportunities in the mobile ecosystem.  Jeb B. Terry Sr. February 16, 2014
Aberdeen Investment Management – a guide service for micro-cap technology investment