We have been following the promise and predictions of "machine to machine" aka "M2M" and now aka the "Internet of Things" or "IoT" for over 10 years.  There has been sound logic and much innovation but there was never the full complement of low cost sensors and communication devices, adequate wireless bandwidth, configuration of a cloud based big data infrastructure and multiple business cases to induce all the players in the ecosystem to get on board.  In short – it was a classic case of "solutions in search of needs" as I have written about in the past (see my post here).  The technology was increasingly adequate but still "early".  It now seems we are entering a period where in fact, not theory, we have "needs in search of solutions".  Hence, the projections I am about to reference may have the highest degree of validity we have seen to date.
The projections have been offered by the familiar and usual suspects – Gartner says there will be 26 billion connected devices, ABI Research says 30+ billion devices, Cisco believes there will be 50 billion connected devices – all by 2020.  The chart of Cisco's projections follows below.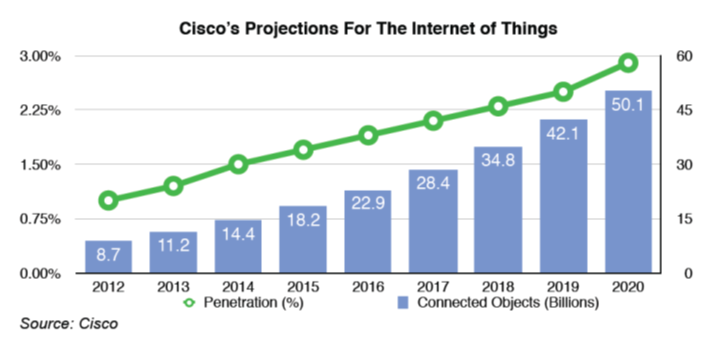 A recent article pointed out that even if we reach Cisco's projection "we would have only penetrated about 3% of all objects that potentially could be connected to the Internet of Things." How do you like them apples?!
Of course logical questions are which businesses will most benefit from the surge and how should we invest to ride this wave.  Its simple – The IoT is all about what? – Its about being "connected" of course – most of which will be wireless.  Its also about being able to gather data from billion of sensors and to be able to analyze all that data in a reasonably fast fashion to generate courses of action.  There will be many, many hardware/chip/cable makers and other "stuff" that will make up the "connective tissue" of the IoT.  We at Aberdeen are choosing to stay focused on software and service providers – the companies that will operate all that stuff and will develop and likely host all the software that will command and respond to all the connected devices. This wave has years to go and will generate multiple trillions of dollars of value.  Jeb B. Terry, Sr.  February 9, 2014