Lost in the blather about the train wreck that is Obamacare, the economy, the mini-correction in the market and the Winter of 2014 is growing evidence of improving private sector business conditions.
A recent research piece from Prime Executions (here) focused on the unmistakable improvement in the NFIB Small Business Survey.  They stated "The "Plans to Hire" component, and "Sales Expectations" component, both indicated increased strength during January. These components follow positive readings for capital expenditure plans and non-farm productivity in the prior week, which are also indicators that can point to further labor market improvement."  While these comments are valid observations from the following chart I found it more interesting that the lows in optimism coincided with prior market lows and the highs have tended to point to new market highs.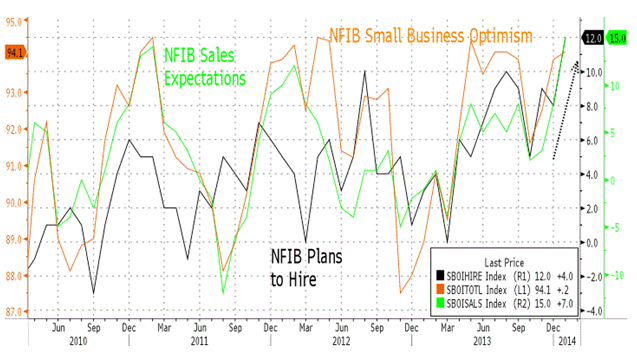 In addition to being optimistic, small businesses and other private sector players are putting money where there mouth is and hiring new employees.  This is clearly evident in the following chart courtesy of Scott Grannis of Calafia Beach Pundit.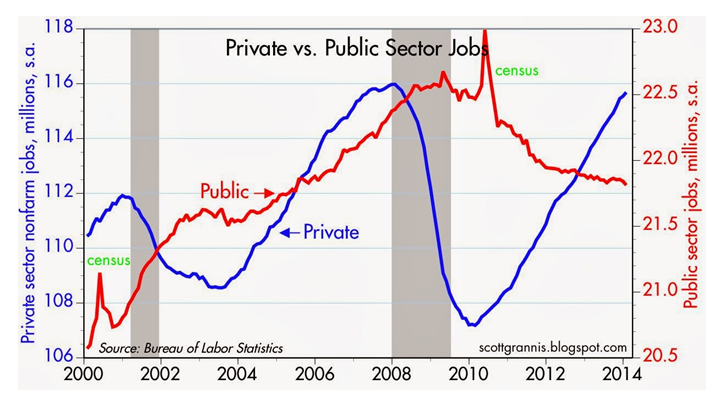 The rise in the market seems to be confirming the strengthening in the private sector – where the earnings come from -eh? Aberdeen stays focused on the fastest growing part of the private sector – technology.  Jeb B Terry, Sr. February 18, 2014.
Aberdeen Investment Management – a guide service for micro-cap technology investment