Bank of America Merrill Lynch equity strategists just issued a note titled "Wall Street Proclaims The Death Of Equities".  They point to their proprietary contrarian sell side indicator which is looking very bullish:
After triggering a Buy signal in May, our measure of Wall Street bullishness on stocks declined again, marking the ninth time in eleven months that the indicator has fallen. The 0.8 ppt decline pushed the indicator down to 49.3, the first time below 50 in nearly 15 years, suggesting that sell side strategists are now more bearish on equities than they were at any point during the collapse of the Tech Bubble or the recent Financial Crisis. Given the contrarian nature of this indicator, we are encouraged by Wall Street's lack of optimism and the fact that strategists are recommending that investors significantly underweight equities vs. a traditional long-term average benchmark weighting of 60-65%.
The Sell Side Indicator is based on the average recommended equity allocation of Wall Street strategists as of the last business day of each month.  The reference to the report came courtesy of Business Insider (here).  The chart of the indicator follows below. 
The bullish signal is the strongest since 1995, a year when the NASDAQ gained 40%.  Once again, similarities to 1995 support my view for a continued bull phase for tech stocks with stand-out growth.  Jeb Terry, Sr. July 8, 2012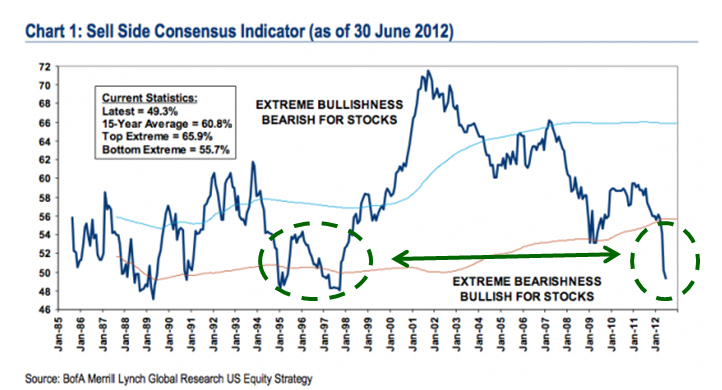 Aberdeen Investment Management – a guide service for micro-cap technology investment