General Market Comment:    September 21, 2009
 We have some charts and comments from Merrill Lynch this week that I found of interest.  Merrill has started a series entitled "Global Quant Panorama" where they address global investment strategy.  A cornerstone of the work is a new data series centered on an amalgamation of global economic and market indicators they call the "Global Wave".  I found the study instructive. It reflects the broad adoption of commonly applied U.S. analytical conventions and reporting and the increasingly tight integration and co-dependency of the global economic players.  It is a logical framework to appreciate the prospects for the earnings contribution from international activities for U.S. companies.  I have heard 60% of the earnings for the S&P 500 companies are attributable to international activity.  The "wave" is rising – surprise, surprise.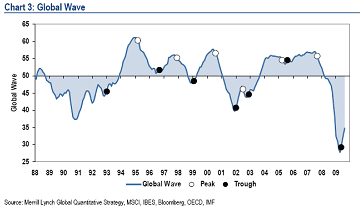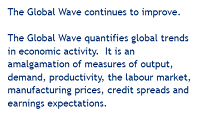 Today's lack of consumer confidence and capacity utilization lead to tomorrow's operating leverage and above trend earnings margins and growth.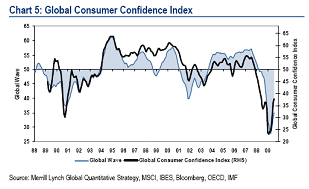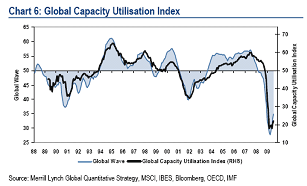 The turn up in both global confidence and utilization support the rising earnings expectations I have pointed out in the recent past.
There should be no surprise that equity market performance is well correlated to and leads Merrill's Global Wave.  We should see the equity markets return to a level of positive year over year change in October.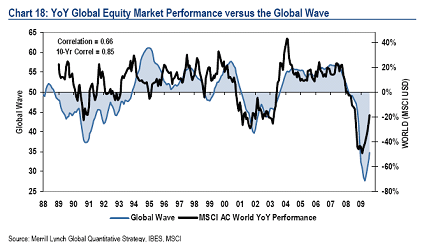 Merrill's view on valuation is straight forward – stocks are cheap.  This chart uses long term earnings to calculate the P/E ratio for their global stock index.  Keep in mind that the "E" part of "P/E" will be rising faster than the "P" part over the intermediate term as operating leverage kicks in over the coming quarters.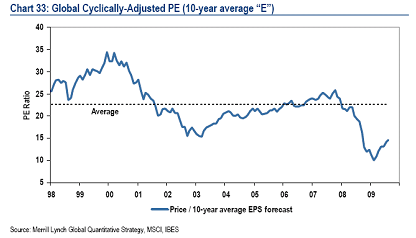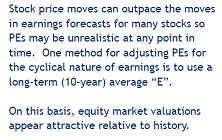 The debate over whether there will be another market "crash" will now start to shift toward the possibility of a drop in October – the month that has seen the most market crashes in history.  We will continue to let others debate – our job is to make money.
 As I said last week . . . "The here and now data supports the case for rising tech stock prices and low and behold they continue to rise.  I continue to believe we will NOT see any material correction (i.e. down 10% or so) as we move toward Q4.  Q4 continues to shape up to be very strong.  Money managers that have missed out on this year's great rally will likely be forced into the market in the October / November time frame as the Q3 earnings season unfolds."