General Market Comment:    October 19, 2009
 The earnings season is not disappointing so far.  There are 135 companies of the S&P 500 reporting this week.  Here is how the companies that have already reported have fared versus their estimates.  So far 79% have beaten estimates.  The average percentage "beat" is up 23.8%.  This data is courtesy of Thomson Reuters.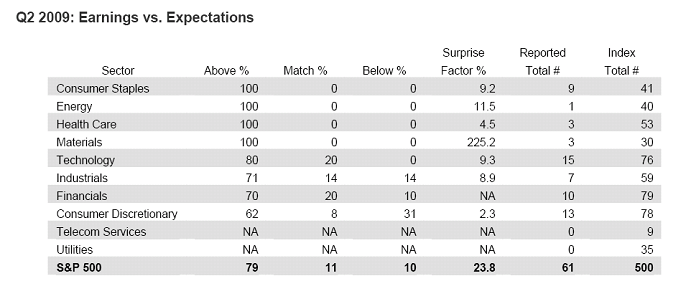 There are still plenty of bears in the woods who will find fault in the earnings and warn of a potential market correction . . . maybe yes – probably no . . . but that is just my opinion.  Their warnings are reassuring.
 Here is some insight from Bespoke Investment Management on the guidance toward future earnings so far.  These metrics are unequivocally bullish.  I have highlighted comments that got my attention.
While the EPS beat rate this earnings season has been strong, there's another data point that has been even more eye-popping.  While the earnings per share numbers grab the headlines, it's what companies say about their future quarters that impacts stock prices the most on their report days.  As shown below, 20.3% of US companies have raised guidance so far this earnings season.  The highest reading for this number has barely broken 15% in any prior quarter this decade.  And if we compare the percentage of companies raising guidance versus the percentage of companies lowering guidance, no other quarters come even close to this one.  It will be hard to keep this up as earnings season progresses, but it's also shaping up to be a record-breaking quarter on the positive side.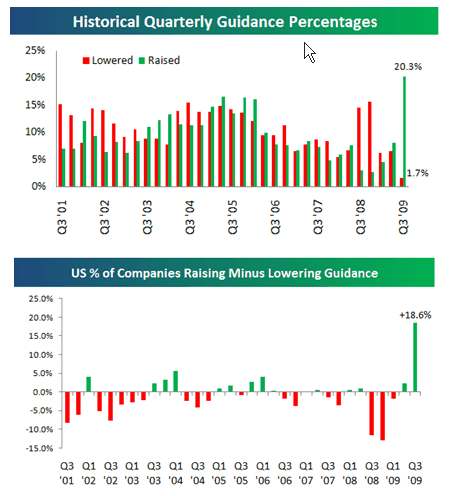 Given the onslaught of earnings reports and updating of estimates I decided to have a look at the degree to which the S&P 500 might be over or under valued relative to the 10 year U.S. Treasury rate.  The growth in earnings for the full year 2009 of 10.8% now places the S&P 500 32% below the fair value using the 10 year Treasury rate as a "cap rate".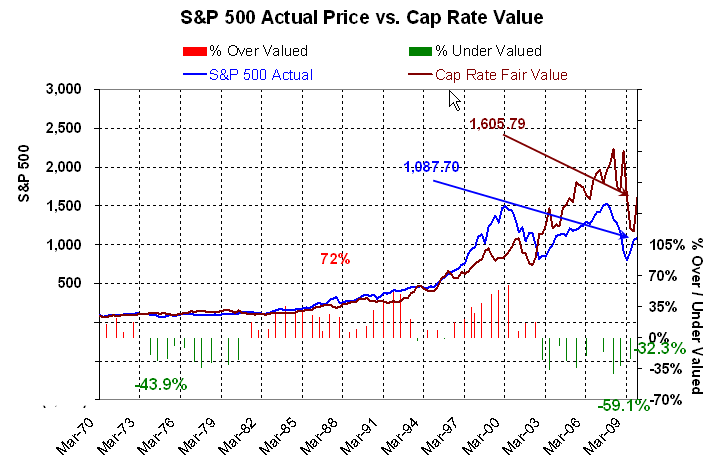 As you might guess the market tends to go up in the following quarters when the S&P 500 has been as undervalued – and this is before we get the full benefit of more raised earnings guidance.  Of course this tool also said the market was over 30% undervalued last fall just before we almost went into the abyss.  But that was then and now is now and earnings are rising instead of falling – so there.
 The facts are coming together to favor more upside to the market in the near term.