General Market Comment:    July 13, 2009
 There has been a great deal of discussion regarding the "weaker than expected" labor numbers for June reported July 2.  The assorted punditry have been debating if the economy is getting weaker, if we all need more "stimulus" from Washington, if the terrific Q2 stock market performance was unsustainable  . . . etc. etc. etc. . . . Hey – they all have deadlines and they have to say something to earn their paychecks.
 The data still tilts more toward recovery than relapse into deeper recession.  I have refreshed some charts to illustrate the point.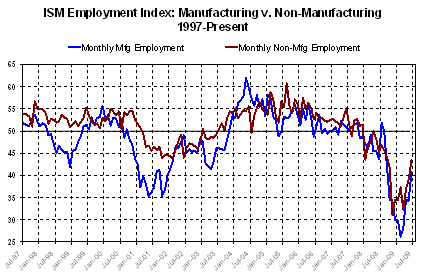 The Institute of Supply Management issued their survey results in recent days and both non-manufacturing and manufacturing survey data point to significantly improving employment albeit both indexes are still below "50" and hence still showing contraction.  Note that they were also below "50" back in 2003 when we last exited a recession and the market took off.  By the way – we just happened to have Chrysler and GM go bankrupt and close dealers around the country in June which could've depressed employment just a touch – eh?
 Along with improving employment data the ISM surveyors also found materially improving new order data as I show in the following chart for both manufacturing and non-manufacturing businesses.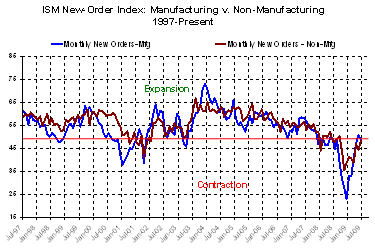 The new order books are charging back toward the "50" level.  Please recall that I have previously found that the direction of new orders also helps predict the direction in employment – of course assuming some calamity doesn't cause a market panic.  Here is a chart of the new orders and employment survey data for manufacturing businesses.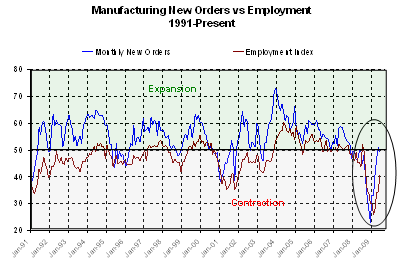 The correlation is obvious and the direction is up.  Here are some comments from the ISM survey report of July 1. I have chosen to highlight some of the remarks.
"Customer inventory burn is complete and real demand has reappeared." (Machinery)
"… a lot of people are requoting old business and using favorable pricing to negotiate with their current suppliers." (Computer & Electronic Products)
"Banks are reluctant to lend to businesses, and until this changes the economy will continue to be weak." (Fabricated Metal Products)
"Slow June, but firm large orders in July, August and September." (Food, Beverage & Tobacco Products)
"

Market appears to have bottomed out

as aftermarket has picked up slightly over the past month." (Transportation Equipment)
The conclusion is that employment is likely in a bottoming process.  The recovering orders will accelerate as businesses exhaust their inventories.  Which leads me to the other key area I want to discuss . . . the upcoming earnings reports that will flood the financial news in the next 4 weeks. 
 Businesses are lean.  They have cut jobs, inventories, capital spending, advertising . . . you name it – "Smithers" was ordered to cut it.  What that means is that as, when and if business starts to recover . . . that would be now according to the data I have showered you with in recent weeks . . . earnings will grow "like a scalded dog" , so to say.
 Here is a chart of operating earnings per share for the S&P 500 through March and the bottom up estimates out to December as published by Standard and Poors.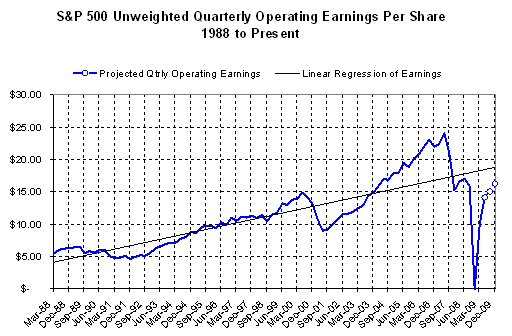 If the market were to recover back to the level it was in 2004 when earnings last rose above $16, as they are projected to in Q4 of this year, then the S&P 500 would rise 28% from Friday's close . . . not bad.  Of course interest rates are lower today than back then and there is more cash sitting idle.  2004 is also relevant as it too was a year when the economy was in recovery and earnings were accelerating.
 The market needs earnings data to get its mind off of the idiocy in Washington.  Earnings growth is highest as companies compare with the bottom of the cycle – that will be Q3, Q4 and Q1 of 2010.  You will want to be fully invested before the earnings outlooks for Q4 are broadly assimilated.  The Q2 earnings that will be reported in coming days will be secondary to the outlooks and guidance provided by management for the upcoming quarters.  If the ISM surveys and other leading economic data I have presented to you in the recent past are valid, the guidance should not disappoint.  I continue to believe the market consolidates in the near term but does not appreciably fall as we head toward a much stronger Q4.  Declining Obama popularity and an impasse on healthcare reform and cap and trade legislation going into the August Congressional recess will help the market.