General Market Comment:    December 7, 2009
 There has been much to ponder over the last two weeks . . . Holiday retail sales, Dubai default, Bernanke confirmation hearings, a raft of economic news including the very surprising improvement in the November labor report.  The numbers I found the most intriguing had to do with the flow of investment funds.  As earnings have been beating estimates by record amounts and as the leading indicators have been improving sharply the "smart money" – i.e. hedge funds and other institutions who are managed by people paid for performance – have been moving aggressively into equities.  Meanwhile retail investors and managers who get paid on assets or just salaries – think pension fund managers – have been buying bonds in near record amounts.  Hmmm . . . who do you think might be right? Wrong?
 The retail investor is unfortunately virtually always a contrary indicator – he / she has an uncanny ability to do the wrong thing at the wrong time.  Today they are buying bond funds, gold, etc.  At the same moment they say inflation is a risk and yet buy the asset class most at risk if inflation is a problem – yikes!  Just think about it – $312 BILLION has gone into bond mutual funds in 2009 while $1.9 BILLION has been taken out of equity funds.  It is even worse for equity funds focused on U.S. investments – these funds have seen outflows of $21.4 BILLION.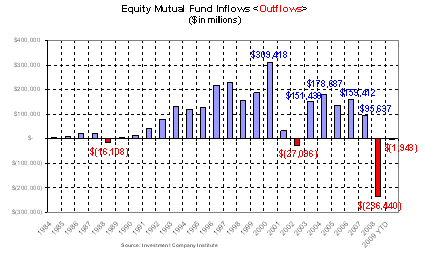 The good news is that by historical standards the fact that retail investors have shunned the equity market in favor of bonds suggests we are not near the high in equity prices.  It may also suggest a significant inflow of funds into equities in early 2010 . . . that would be nice – eh?
 We remain in a historically benign time for the market.  December is typically the 2nd best month of the year for the S&P 500.  It is the 3rd best for the NASDAQ.  The downside in the near term is limited.  The upside is we may see a "melt up" of near historic proportions if the bond buyers finally capitulate and move into equities.