General Market Comment:    August 31, 2009
 We managed to get through August with another gain in the market.  The market is up 6 months in a row.  It has gone up 20 of the last 25 weeks.  We have seen remarkable strings of consecutive positive weeks.  The market (as I define as the NASDAQ) has gained over 56% from its March low.   In the vein of "no good deed goes unpunished" surely the market is due for a "correction" of some meaningful magnitude. 
 And now we are entering the dreaded month of September . . . the historically worst month of the year for the stock market. The NASDAQ has been down in September 46% of the time since its start in 1971.  The S&P 500 has been down 56% of the time going back to 1950.
 Why would one month always be so bad?
 There are many anecdotal explanations, some logical, some goofy . . . but since it has become the received wisdom that the market declines in September and since there are myriad ways to make directional bets on the market the downward bias has become an almost structural element in September.
 The most recent experience similar to what we now face was in 2003.  The NASDAQ had risen 7 consecutive months as we entered September 2003.  The economy was emerging from recession.  The market had made a terrific recovery of over 40% from a March low . . . sounds familiar – eh?  The NASDAQ declined a "whopping" 1.3% in September 2003.  It went on to rise over 8% in October 2003! 
 Here are some of the signs that give me encouragement that this September will be more like 2003. 
 The economic recovery is becoming more obvious by the week My favorite leading economic indicator – the ECRI Weekly Leading Index – continues to rock.  Here is what the Managing Director said last week . . . ""With WLI growth continuing to surge through late summer, a double dip back into recession in the fourth quarter is simply out of the question," said ECRI Managing Director Lakshman Achuthan, reinstating the group's recent warning to ignore negative analyst projections.  
 Markets don't fall when earnings are improving The level of future earnings continues to rise.  As I have shown you in recent weeks the earnings reports for 2009 and for Q2 2009 in particular have far exceeded estimates.  This performance has analysts looking ahead with more confidence. The current earnings estimates support a valuation of the S&P 500 of as much as 14% greater than today if multiples of run rate earnings equal what was paid in 2003.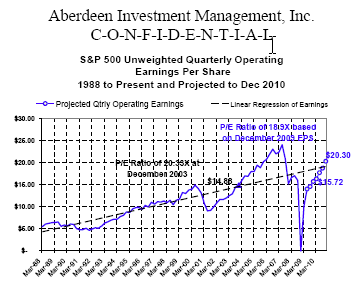 Markets don't fall when money is flowing into mutual funds

        Inflows to equity mutual funds has been positive for 4 months in a row for the first time since 2007.  $100 billion of inflows can lead to $1 to $1.5 trillion in market capitalization growth.  That would imply a potential double digit percentage increase in the major index values.  Year to date inflows to equity funds has only been $8.9 billion.  There is much more to come – soon.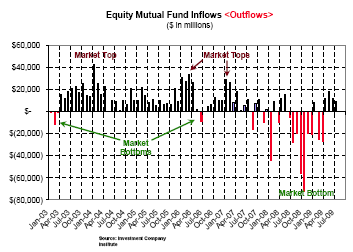 Markets like political gridlock – which is looking more likely

      The best market returns have occurred with a Democratic President and a Republican Congress.  The healthcare reform fiasco is weakening the Democratic Party's ability pass their liberal agenda.  A definitive defeat of the healthcare legislation in September – as it appears increasingly probable if not certain – will allow the markets to begin to discount a change in control in Congress in the mid term election of 2010.  The polls are indicating a shift in voter sentiment toward a more center right orientation.  The more this is confirmed, the higher the market will go.
You ain't seen nothin' yet

          There remains an unprecedented amount of cash on the sidelines.  M1 – i.e. checking accounts – continues to pile up.  This will stop. My guess is we will see some leveling off leading to a decline starting in Q4 and continuing in 2010.  You want to be long stocks when this happens.  A couple hundred billion dollars will flow back into the economy.
 As I said last week – I am becoming more persuaded we will not see any material correction (i.e. down 10% or so) as we move toward Q4.  The implication is we won't see one till Spring 2010 at the earliest.  Q4 is shaping up to be a barn burner – that means "very good" for all you city folks.  That sounds aggressive but that is how the facts are laying out.