General Market Comment:    August 3, 2009
 The improving earnings outlook continued to gain support last week as more companies beat the earnings estimates.  In a typical quarter (since 1994) Thomson Reuters tells up only 61% of reporting S&P 500 companies beat estimates.  So far 74% of the 337 who have reported have beaten estimates.
 The following comment and chart comes from the folks at Bespoke Investment Group .
 This week, 699 US companies reported earnings, bringing the overall earnings season tally up to 1,220.  The percentage of companies reporting better than expected earnings this season currently stands at 71%, and with the the bulk of reports now in, it's most likely going to stay above 70%.  As shown in the chart below, this is one of the highest quarterly readings we've seen over the last ten years, and by far the highest we've seen since the last bear market began in late 2007.  We've now had two straight quarters where the "beat" rate has increased quarter over quarter, meaning analysts overestimated earnings to the downside.  This is a very positive sign for the market at the moment, but it also means expectations for next earnings season are going to be through the roof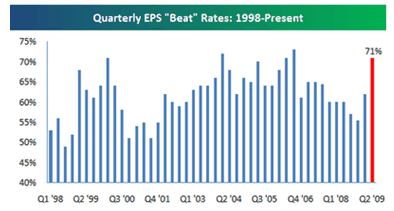 We shouldn't be so surprised.  As the following charts from Yardeni Research clearly display, the confirmed upturn in leading economic indicators telegraphed improving earnings and the upturn in the forward twelve month S&P 500 earnings estimates by analysts point to improving business sales and . . . importantly . . . employment.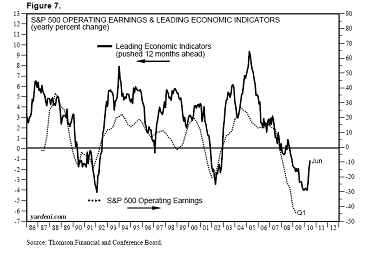 The government's monthly LEI data has decisively turned up and so will earnings.  The reported Q2 quarterly earnings for the S&P 500 are up over 40% from Q1.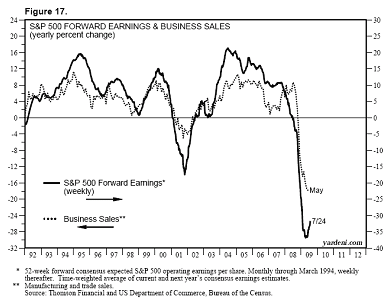 Street analysts are raising their estimates.  This action tends to lead actual gains in revenues.  This tool and the actual reported earnings exceeding estimates point to revenues picking up sooner than later.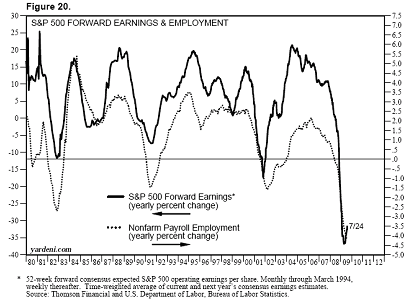 Keep all of the above in mind when the unemployment stats are reported this Friday.  Payroll numbers tend to lag turns in earnings and the economy.  We should be near an inflection point.
While there are reasons for optimism remember that August is not usually a good month for the market.  In fact, the Stock Trader's Almanac tells us it has been the worst month for the S&P 500 every year since 1987.  July was an unusually good month.  No money manager will get fired for protecting profits in August.  They want to go away on holiday with some peace of mind –eh?
 The odds favor a pull back in the coming weeks.  This will not be a reversal . . . it will be an opportunity to reload and be ready for a strong Q4 market.