General Market Comment:    August 17, 2009
 The market may have begun a long anticipated correction.  It might be a short one.  The weekly leading economic indicators compiled by the Economic Cycle Research Institute have been on a tear of late pointing to a sharp economic recovery – soon.  This would be consistent with the sharp increase in Street earnings estimates – more on that later.  First look at the following chart.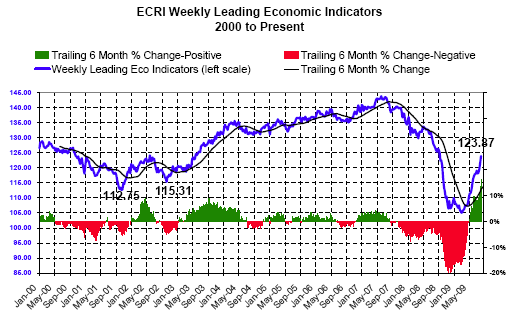 Here is what the head of ECRI had to say last week . . . "With WLI (weekly leading indicator) growth surging, the odds are rising that the early stage of this economic recovery will be stronger than any since the early 1980s," said Lakshman Achuthan, Managing Director at ECRI. The rate of growth in the leading indicators is unprecedented in the history of the ECRI data series going back to 1967. 
 The Street analysts are paying attention.  The net percentage of upside earnings revisions has turned up sharply since the end of Q1.  Here is a chart and comments from Bespoke Investment Group.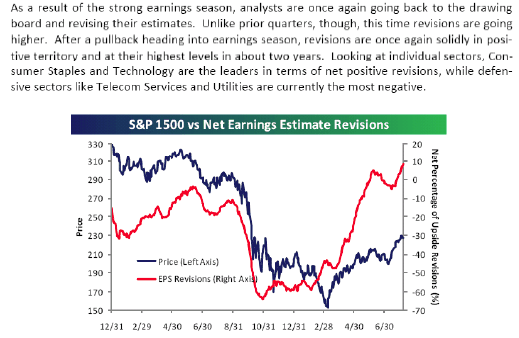 These items are good – very good . . . and forward looking.  Changing earnings estimates are key catalysts for movements in stock prices.
 BUT – the odds favor a short term correction until we can move out on the calendar and start seeing Q3 indications and improving outlooks for Q4 that catch up with the leading indicators from ECRI.  This will not be a reversal . . . it will be an opportunity to reload and be ready for a strong Q4 market.