General Market Comment:    August 10, 2009
 The market has refused to pull back much to the chagrin of the trading crowd.  One of the reasons you have all heard about is the strong earnings performance in Q2 – or rather the strong performance relative to expectations.  I include below an excerpt from Bespoke Investment Group that has a look at the number of companies raising earnings guidance.  The percentage of companies raising guidance is the strongest since 2006.  More importantly – notice that we are experiencing the first reversal when rising guidance exceeds falling guidance since the early phase of the 2003 market recovery.
Probably the most bullish aspect of this earnings season has been guidance.  After three quarters where companies guiding lower far outnumbered companies guiding higher, the trend has reversed to the positive side. As shown, 8.4% of companies reporting earnings have raised guidance in Q2, while 6.1% of companies have lowered guidance.  Just two quarters ago, 15.7% of companies lowered guidance, while just 2.66% raised guidance.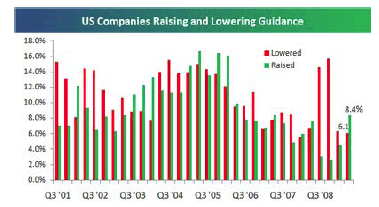 While I remain optimistic for the remainder of the year, I stick by my comments from last week . . . "While there are reasons for optimism remember that August is not usually a good month for the market.  In fact, the Stock Trader's Almanac tells us it has been the worst month for the S&P 500 every year since 1987.  July was an unusually good month.  No money manager will get fired for protecting profits in August.  They want to go away on holiday with some peace of mind –eh?"
 The odds favor a pull back in the coming weeks.  This will not be a reversal . . . it will be an opportunity to reload and be ready for a strong Q4 market.