No wonder it's been tough sledding in the equity market since 2008! – it's hard for equity values to rise when equity mutual funds have experienced severe and persistent outflows.  The following chart is courtesy of Bank of America Merrill Lynch.  It displays well the fact that investors have cumulatively withdrawn all the equity inflows that fueled the tech boom in the 90's.
 It seems reasonable to assume that the withdrawals will turn back into inflows as we see developments such we have experienced so far in Q3 as the S&P 500 has appreciated 4.1% and is up 12.8% year to date.  Better yet – the S&P 500 is up 25% from Q3 2011.
 History has shown that equity mutual funds tend to have increasing inflows following above average market performance.  The current year S&P 500 performance is over 3X above the average performance going back to 1970.  Hence it is reasonable to expect equity fund outflows to at least slow down if not in fact reverse to inflows as a consequence of the strong stock market performance.  Of course money flowing into equity mutual funds has a self-fulfilling effect as the equity markets tend to rise from the positive money flow.
 Could it be that we are in a sustainable bull market?  The odds that the answer is "YES" are improving.   Jeb Terry, Sr. Aug 17, 2012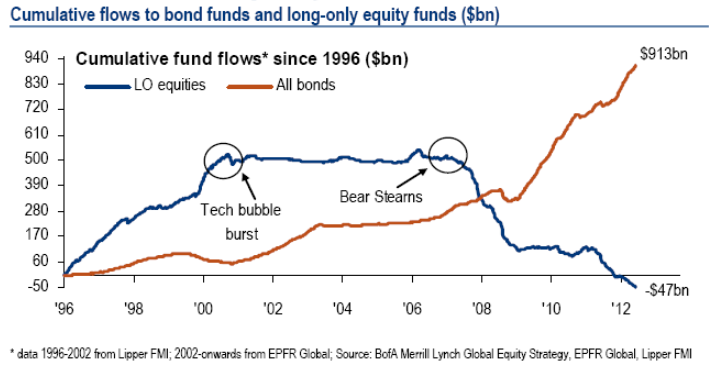 Aberdeen Investment Management – a guide service for micro-cap technology investment