January 2012 saw the S&P 500 rise 4.4%.  According to the Stock Trader's Almanac (here), a typical move for January has been a gain of 1.3%.  It was the best performing month of January for the S&P 500 in 15 years since 1997.  January 1997 rose 6.1%.  The Q1 1997 gain for the S&P 500 was 2.2% therefore the S&P 500 actually declined from January to March 31. The full year 1997 saw the S&P 500 rise 31%.
If Q1 ended today, the S&P 500 would be up 7.34%, the best Q1 performance in 14 years since 1998.  Since 1927 there have only been 18 years with as strong or stronger a Q1 gain.  The market went on to have a full year gain in 88% of the cases.  The average full year gain was 15.8%.  In 1998 the S&P 500 gained 13.5% in Q1 and rose 26.7% for the full year.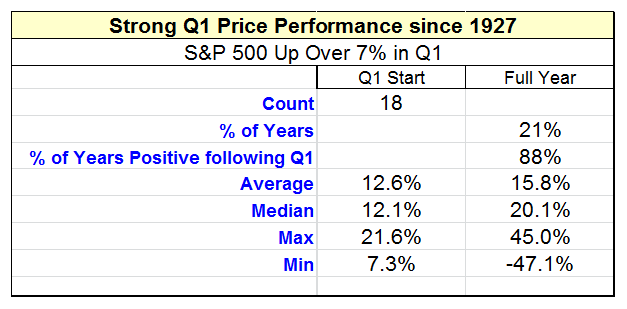 Market lore has it that if January is positive then the full year will be positive and vice versa.  Since 1950, there have been only 7 years where this relationship has not been true implying 88.5% accuracy.  Notably, the indicator was wrong in 2009 and 2010 when the market had a loss in each January but went on to have an above average gain for the full year.
The current rally in the S&P 500 is up 22.5% since the bottom on October 3, 2011.  Birinyi Assoc. (here) calculates that the average rally since 1945 has seen a gain of 37.1% over a 327 day period.  The implication is that the current rally can last another 200 +/- days and rise another 14% to 1,543 by around August 25, 2012. Jeb Terry, Sr. February 9, 2012
Aberdeen Investment Management – a guide service for micro-cap technology investment