By now you are aware that the S&P 500 fell 3.6% in January.  Such a drop is not good, but certainly not all that bad.  While the drop from top to bottom was a brisk 6.1% in 21 days, the recovery has been an even more brisk rise of 6% in only 9 days!
The reversal would appear to have legs if the following charts on inflows to bond funds and outflows from equity mutual funds and ETFs are reliable contrarian indicators.  First – these moves are spectacular!  We had a bona fide, "fire in the theatre", "head for the exits" event in the first week of February – right about the time the equity markets hit their lows – or as I like to say, "hit the point of the thud".  There was a record inflow to bond funds as nearly $15 billion sought the safety of bonds.  Over $20 billion ran away from stocks – also a record.
What is remarkable is that the equity markets fell as little as they did. The stability was perhaps attributable to the very positive earnings performance this earnings season.
As you may already suspect – the panic exhibited by fund flows is a positive contrary indicator that is consistent with the brisk recovery we have seen and should see more of in the coming days.  In fact, analysts at Minyanville (here) found that in all 8 prior occasions when the S&P 500 dropped similarly as it did in January/Feb. since 1928 that the market was fully recovered within 2 months.  It looks like we will beat that average easily.
The following two charts are courtesy of Deustche Bank by way of Matt Phillips.  The original data was compiled by EPFR.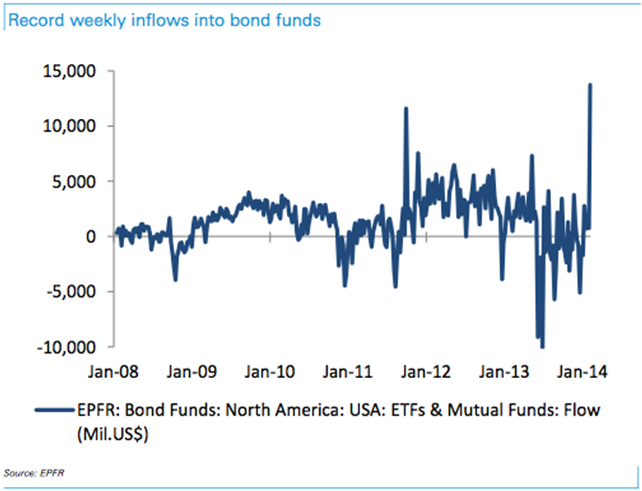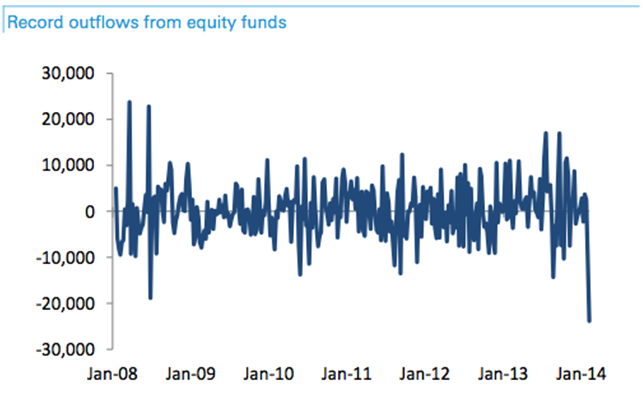 While the two charts undeniably show that the "great rotation" from bonds to equities may have been interrupted in early February it is certainly NOT conclusive that the "great rotation" has been stopped.  The following chart from EPFR does an excellent job displaying the trend in the shift away from bonds to equities.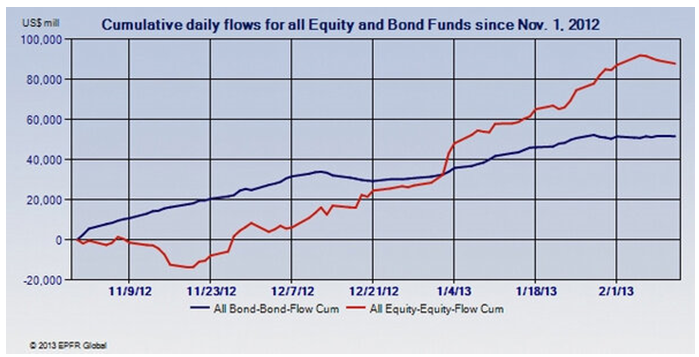 Our call is with the bulls.  Our read of the data is the great rotation is still only in its early innings.  Jeb B. Terry, Sr. February 17, 2014
Aberdeen Investment Management – a guide service for micro-cap technology investment