Posted By Jeb on September 14, 2009
General Market Comment:    September 14, 2009
 The focus of this comment is on the outlook for the technology sector – the sector where all of our investments reside.  You all may be aware of the stellar outperformance of the tech sector so far this year.  If not, I have charted the move in the "XLK" (Technology Select Sector SPDR that trades on the NYSE) compared to the S&P 500 (SPX).  The tech sector is up 33% and has beaten the S&P 500 by 15%.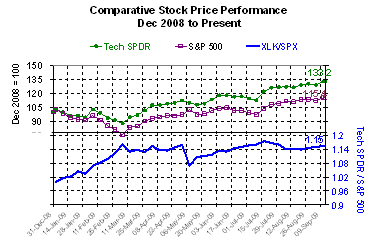 There is a simple explanation for the outperformance . . . faster earnings recovery and more profit margin than the rest of the S&P 500.  Yardeni Research has displayed the trend in forward earnings estimates for tech stocks since 1995.  The "squiggly" lines are the estimates for each year as they change over time.  The recent recession has been a cakewalk compared to 2000-2002.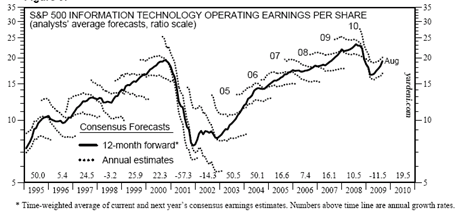 Technology companies are more profitable than the average S&P 500 industrial company.  Margins in Q2, while down from their peak, remain above 1999 levels and are rising.  Note that technology businesses are more "B2B" as in "business to business" oriented and hence somewhat less exposed to concerns over consumer spending levels.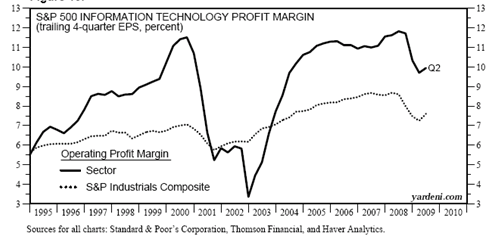 The Street analysts have been rapidly adjusting upward their earnings estimates for the technology sector.  The current level is consistent with past bull markets in technology stocks.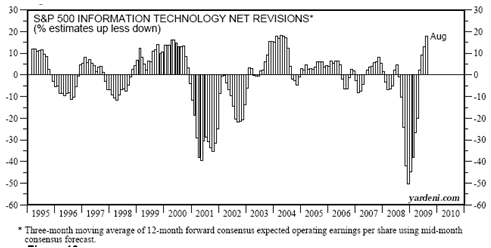 In addition to signals provided by tech stock prices and earnings estimates we have evidence of an improved outlook for the technology sector from the "Tech Pulse" index generated by the Federal Reserve Bank of San Francisco.  The index is computed from coincident indicators related to technology including investment, consumption, production and employment.  I have charted the most recent numbers as of August.  While the data series is bumpy it has turned up sharply consistent with behavior in the tech recovery of 2003 and supportive of the rising earnings estimates for the tech sector.  Since the technology sector generally produces more earnings than any other market sector (~2X more than consumer discretionary stocks for example) this will provide a prop for overall market performance.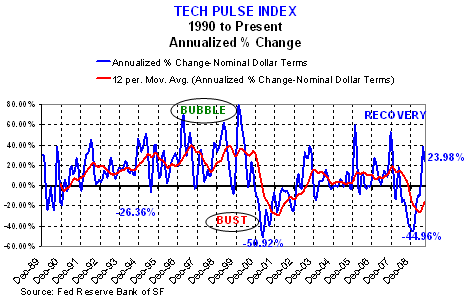 There seems to be endless debate over whether there will be another market "crash".  The various causes or reasons which are vigorously presented include falling commercial real estate, rising inflation, a consumer who can't / won't spend etc. etc.  This is all good – it allows markets to discount imminent risks.  The more the debate, the less the risk of a surprise drop in the market.
 We will let others debate.  The here and now data supports the case for rising tech stock prices and low and behold they continue to rise.  I continue to believe we will NOT see any material correction (i.e. down 10% or so) as we move toward Q4.  Q4 continues to shape up to be very strong.  Money managers that have missed out on this year's great rally will likely be forced into the market in the October / November time frame as the Q3 earnings season unfolds.