The tide of mobile data use continues to rise . . . fast.
A recent post by the Yankee Group had this to say . . . "A new study from JDS Uniphase's Arieso unit finds that 4G/LTE's fatter pipes are resulting in fatter usage patterns as well, and that just 0.1 percent of 4G/LTE users consume half of all downlink traffic vs. 1 percent of all 3G users who do so.  Total Telecom reports the study also found that iPhone users posted the most data consumption, and that those using Apple's newest iPhone 5S consume seven times more data than those using 3G iPhones in developed markets and 20 times more than 3G users in emerging markets."
4G/LTE changes consumer behavior.  Consumers are rapidly upgrading to 4G/LTE enabled smartphones (encouraged by novel and aggressive pricing by carriers).  Indeed, we seem to be at a tipping point.  The roll out of 4G/LTE in China to hundreds of millions of users and the scale launch of small cells in US are triggering the production of more smartphones at lower prices capable of driving even more mobile data usage.  Consumers are being educated by mass media.  They are in the "monkey see, monkey do" phase where 4G/LTE penetration is visibly sufficient to encourage later adopters to upgrade.  The carrier operating advantages for 4G/LTE and the opportunity to steal market share are driving increased marketing spending.  There is increasing urgency for them to find ways to harvest more ARPU through mobile data revenue such as ad supported activity, content, services and commerce.  The chart below shows Yankee Group's forecast for global mobile data revenue to reach $559 billion by 2017.
The takeaways from the Yankee Group report are not just about network capacity constraints, they are also informative about the rate of change in patterns of video consumption, the advertising ecosystem around video, the continuing explosion in mobile app based entertainment and services and the inevitability of surging mobile advertising and commerce.  The Aberdeen portfolio is invested in numerous companies that benefit from the mobile data tide.  Jeb B. Terry, Sr.  January 26, 2014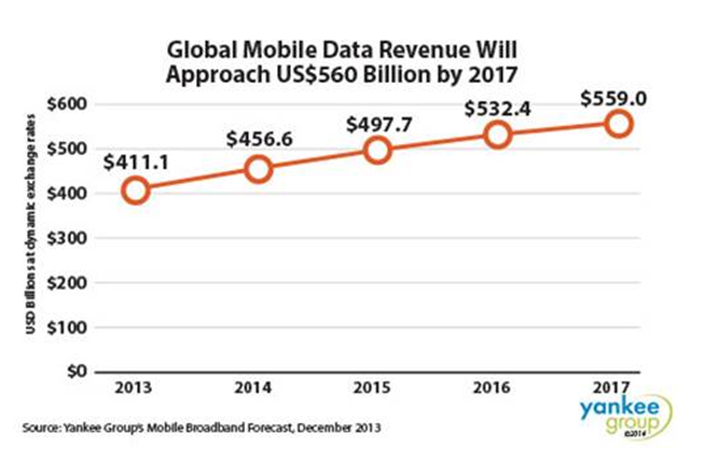 Aberdeen Investment Management – a guide service for micro-cap technology investment