Projections for ad spending on mobile devices went from high to higher.  You wouldn't know it from the stock prices of companies in the space but this tide is rising.
An article in Mobile Marketer (here) had this to say . . .  eMarketer recently significantly increased its 2012-2016 projections for U.S. mobile advertising.  In December 2012, eMarketer raised its 2012E U.S. mobile advertising estimate to $4.4 billion from its previous estimate of $2.6 billion, a forecast it made in January 2012. This implies U.S. mobile advertising growth of 180 percent in 2012, up from the previous estimate of 80 percent growth. 
eMarketer revised 2013-2016 estimates even more than its 2012 estimate.  In fact, eMarketer is now projecting U.S. mobile advertising to increase 77 percent in 2013 to $7.2 billion, a full $2.8 billion higher than its previous forecast of $4.4 billion.  [plus 63% ]  The firm attributed the significant increase in its estimates in large part to the success of "native ad" formats such as Facebook's mobile news feed ads, Twitter's Promoted Products, and Google's direct response advertising.  EMarketer now projects U.S. mobile advertising in 2016 ($20.9 billion) to be nearly twice the size of its previous estimate ($11.9 billion). 
The increase and slope are dramatically up and to the right in the following chart.  We remain focused on ways to exploit this development.  Jeb B. Terry, Sr. March 16, 2013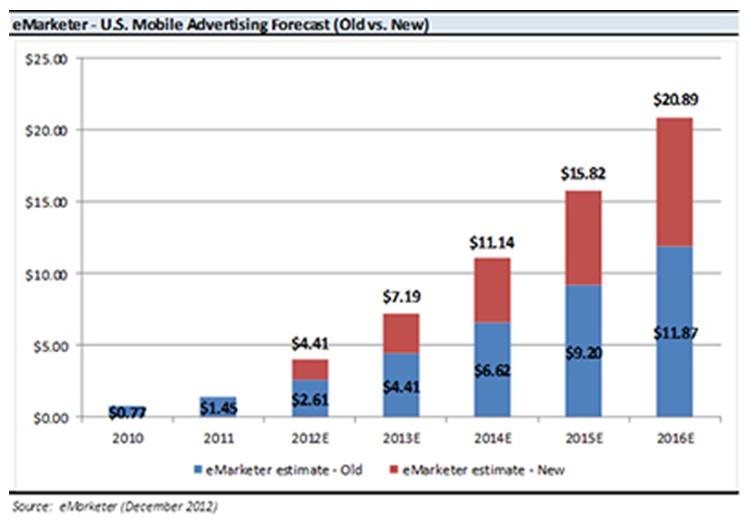 Aberdeen Investment Management – a guide service for micro-cap technology investment