Now that 2011 is over the financial press is sifting through the data to see what can be learned from the 12 months just ended in order to forecast the 12 months ahead.  You all probably have read that the Dow was up "6ish" percent, the S&P 500 was "flatish" and the NASDAQ was down ~2%.  Those numbers fail to reveal the mayhem that was unleashed in Q3 on stocks all over the world and on those stocks that were outside of the realm of large cap, dividend paying U.S. stocks.  The "risk off" trade hammered the emerging markets epitomized by the BRIC countries.  The following chart from Ed Yardeni's blog does a good job showing how bad things got outside of the circus that was the Eurozone and U.S. political theatre in 2011.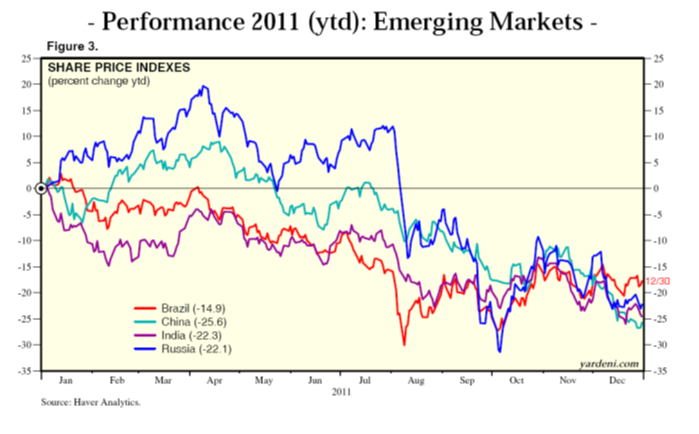 Closer to home, there was real devastation in tech stocks – our area of focus.  Masked by the impact of the mega cap tech names such as Apple and Microsoft was the fact that 77% of tech stocks having less than $500 million in market cap were down for the year (sample of over 500 companies).  44% of tech companies with more than $500 million in market cap also were down on the year.  Approximately 60% of tech stocks remained under their 50 day moving average price at year end.  No wonder over 90% of all equity mutual funds were showing losses for 2011 going into December.  To make it worse – the wildebeests i.e. retail investors – yanked $118 billion out of those same equity funds in 2011 (see my note here) forcing the managers to sell at the lows – Dang! 
 So what does this mean?  It means that 2011 had similar trauma – but not as severe –as in 2008.  It means that the widespread panic that punished smaller equities and markets around the world was likely overdone.  It means that several of Bob Farrell's "rules for investing in tough markets" (see my post here) can possibly come into play in 2012.  Rules #2 and #4 come to mind.
#2 Excesses in one direction will lead to an opposite excess in the other direction,
#4 Exponential rapidly rising or falling markets usually go further than you think, but they do not correct by going sideways.
The conditions are ripe for a sharp rebound in growth oriented investments. The three most powerful words on Wall Street are "Better Than Expected".  Economic and earnings reports in the coming days and weeks will need to be "better than expected" to trigger a better than average market rally in Q1. Expectations are anything but euphoric at the moment.  Jeb Terry, Sr. January 3, 2012
Aberdeen Investment Management – a guide service for micro-cap technology investment