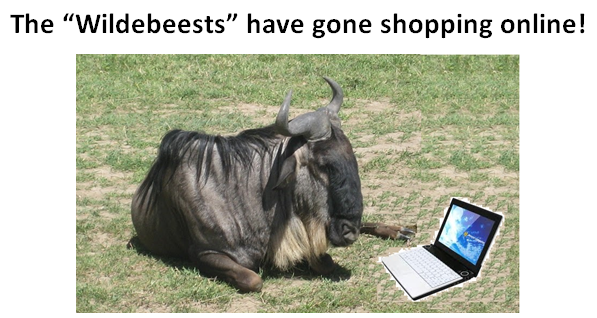 Early reports suggest the American consumer, aka "wildebeest", is engaged in serious "retail therapy".
Why does this matter? . . . Several reasons . . . it is a "belly button" indicator – by that I mean it's an economic indicator that won't fake you out and it is sending a message about a restoration of growth.  What are some implications? – It's a result of and stimulus for tech spending / broadband (both wired and wireless) / smartphones / online advertising / cloud computing – It's a sign that the most educated, higher income segments of the population are loosening the purse strings, getting jobs and feeling better about the future . . .
The recovery in online shopping is further proof that the economy is returning to a normal inclination toward growth . . .
 With that, we can expect to see more investment in stocks – particularly tech stocks (that's where the most earnings are –eh?) – and less investment in bonds.
Be brave – go ride the wave of e-commerce and online advertising in 2011 – that's what we are doing here at Aberdeen.

Wildebeests Gone Shopping -Holiday Sales are Booming