See Jeb's slide deck presentation on the state of the market and economic recovery: Life Goes On in Serengeti 10-21-2010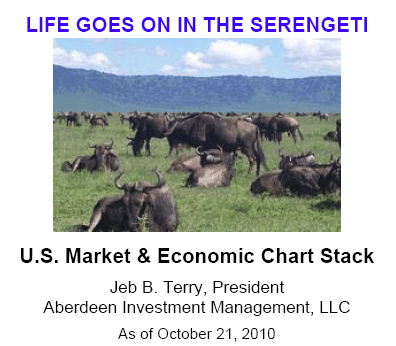 General Market Comment:          
 The market rocked in September much to the chagrin of the bears.  The NASDAQ rose 12%, the fastest rate for a September since September 1998 and second fastest growth for any September going back to NASDAQ's creation in 1971.  There have only been 20 months since the formation of the NASDAQ that the growth has been 12% or better – that's only 4% of all months.  The market has been typically up in the month following such a strong month and October has so far proven to be consistent rising over 4% so far which is by itself a strong month.  The 12% move in September ranks in the 96th percentile of all months as can be seen in the following chart.  The average monthly percent change for the NASDAQ is only 0.9% for all months and 4.9% for all positive months.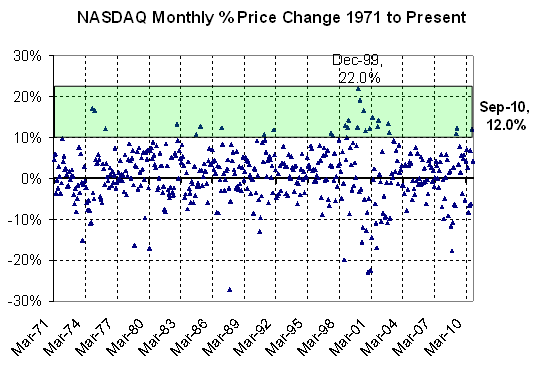 You will be pleased to know that strong monthly moves by the NASDAQ have tended to precede strong quarters.  The following three months have been up 68% of the time by an average of 13.3%.  Notably the market was up 29.5% in the 4th quarter following the last time September was as strong as last month which was 1998.
 Bottom Line:        More clarity about the moderate but continuing strength in the economy and the outcome of the midterm elections in early November will be catalysts along with Q3 earnings reports to drive the market significantly higher by year end.  Capital has been frozen in fear of the direction of fiscal policy and increased tax burdens.