The Wildebeests are preparing to fight for herd dominance in November
Download the full pdf at: Thoughts Mkt Performance & Midterm Elec 9-2-10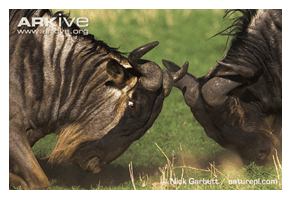 Facts to Consider:
 Polls and prediction markets point to a significant Republican victory in the November midterm elections that will likely change the control in the House of Representatives to the Republicans and may do the same in the Senate.
Gridlock in Washington is good for the stock market. When different parties control the White House and the Congress, there has been dramatically improved stock market performance.
The Q2 earnings season exhibited continuing above average earnings growth that significantly beat expectations.
Corporate profits, including public and private companies, continue to exhibit the strongest recovery in modern history.  Corporate profits are set to mark a new all time high in Q3 this year resulting in a full recovery in only 7 quarters.
Corporate cash flows and after tax margins have already set a new record high in Q2.
Investment in technology remains the best in 10 years.
Market valuation is compelling . . . The S&P 500 P/E ratio is the lowest in 20 years.
Investor sentiment measures are at levels consistent with market lows.
Companies have cash and are starting to spend it on acquisitions and stock buybacks
Q4 is a predominantly up quarter.  Q4 has shown a gain for the S&P 500 in 80% of the cases since 1980 and risen sequentially over Q3 by an average of 7.4%.
The stock market is predominantly up in mid-term election years.  Q4 has seen an increase in the S&P 500 87.5% of the time in midterm election years in the post WWII modern political era. 
 Conclusion:    Conditions for stocks are improving.  The flight from equities has been excessive.  The "surprise" potential is for upside events.  Earnings growth is likely to continue to be stronger than macro economic concerns would suggest.
 BUY MORE GROWTH STOCKS – SELL BONDS