General Market Comment:   April 19, 2010
There is justifiable questioning if the terrific rally since the 2009 market low is sustainable.  We can point to market lore, cycle theories, some market internal measures and general pessimism to find reasons to want to prepare to "sell in May and go away".  The business press will increasingly be full of calls to "take profits" . . . music to a broker's ear –eh? 
But the data tells a different story.  My trusty indicators such as the yield curve, money market and mutual fund flows, money supply, earnings growth and the leading economic indicators are all telling me that we are still in the an early stage of a bull market that will increasingly be led by technology, i.e. our kinds of companies. 
The following chart from the Bespoke Investment Group (www.bespokeinvest.com) displays periods when the market has had prolonged periods of rising prices without the occurrence of typical corrections – such as we have just experienced.  We went 51 days without a 1% pullback until Friday's 1.6% pullback in the S&P 500.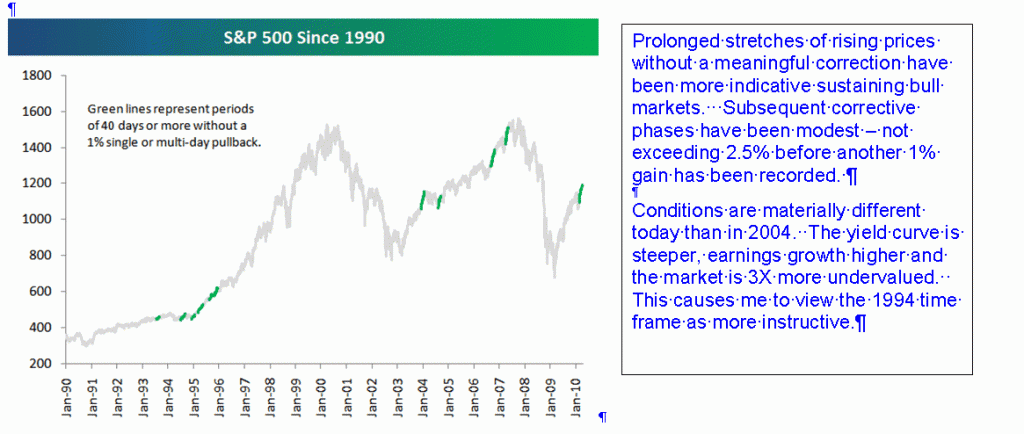 Other "factoids" that lend support include the following: 
From an article in Barron's on 4-12-10 we have the following comment:  There have been eight consecutive weeks of net inflows into domestic stock funds, with institutional investors setting the trend. Individuals began following suit three weeks ago. The flows are still relatively meager — $11.5 billion the past four weeks, according to Cambridge, Mass.-based fund tracker EPFR Global — but, importantly, they are consistent. Not since 2004 have U.S. equity funds posted positive inflows for a full year. Tired of missing out as stocks continue to rise after the biggest market rally since the Great Depression, and gaining more confidence in an economic expansion, investors are showing signs of favoring stocks over long-preferred bonds.  
There is a boom going on in semiconductors.  A March survey of sales results in the industry performed by the ChangeWave Investing shows the best outlook in over 4 years.  Semiconductors are the new "Dr. Copper".  Semiconductors are increasingly embedded in all manner of products from toys to industrial equipment to smart meters.  In the past, economists could have a sense of the strength or weakness in the economy by tracking the price and order book for copper hence the term "Dr. Copper".  Today semiconductors are telling us technology spending is rising.  The price for Intel stock is also telling us good things are happening in technology as it is up 21% since February.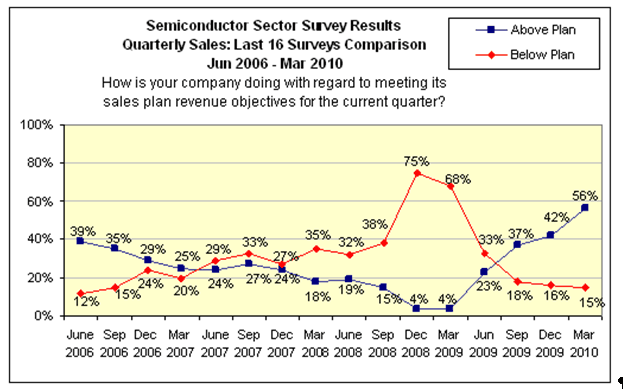 Money market fund activity is also sending us bullish signals.

There is a legitimate concern about last week's news of the SEC bringing fraud charges against Goldman Sachs.  To be sure this is part of a larger political development to re-regulate Wall Street and to make sure someone is made to pay for the subprime mortgage fiasco of 2007-2008 that nearly ended life as we know it.  There will likely be more legal action brought against other players in the drama.  . . . Will it take the current bull market down with it? . . . Nope . . . although it will be unpleasant for Goldman Sachs – I don't believe life threatening – but very expensive and very unpleasant.  Will it impair the capital market's ability provide liquidity?  . . . Nope.
So, what's the bottom line? . . . The financial stocks will be roiled by the Goldman affair as people try to guess the ultimate extent of the cost to Goldman and who else might be pilloried in public.  This will be mitigated by a parade of companies with improving earnings and brightening outlooks.  So far, Thomson Reuters reports that 48 S&P 500 companies have reported earnings.  An amazing 83% of them have beaten estimates and only 8% have missed.  Normally 21% miss estimate.  In aggregate, the earnings are 23% above estimates which is over 10X greater than the average surprise factor since 1994.  While the percentage of companies beating estimates will surely drop as we proceed into the earnings season we can be certain that earnings will be above average growth and above the average "beat" rate.  Rising earnings => rising stock prices.
I will not be too concerned if we have some pullback in prices in the coming weeks.  The action should be more akin to base building in preparation for a strong finish to Q2.  I will provide some prognostication on Q3 when I next report in May. 
*************************************************************
Please refer to the latest Market Analysis report dated March 9, 2010 entitled "Spring Returns to the Serengeti" on our web site www.aberdeeninvestment.com for more data supporting our opinions on the economy and the market.  
*************************************************************