General Market Comment:    January 18, 2010
 The market is closed in the U.S. on Monday for Martin Luther King Day.  The special election in Massachusetts for the senate seat formerly held by Ted Kennedy is shaping up to be a pivotal statement on the public's support for the Obama administration's policies.  A win by Republicans would be considered bullish. 
 The week will also include a heavy calendar of earnings announcements.  So far, the few earnings that were reported last week didn't please the pundits.  The chart on the leading economic indicators as reported by the ECRI (Economic Cycle Research Institute) and updated through Jan. 8 shows that the economy is in fact undergoing a very robust symmetrical recovery.  This condition in the past has translated into equally robust earnings growth.  The ECRI data suggests the pundits will find the upcoming earnings reports to have more of the kind of growth they are looking for.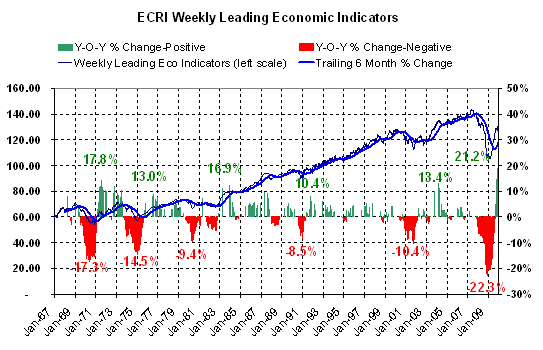 As you consider the above chart note how the indicators tended to recover by as much or more in percentage terms as they fell going into recessionary periods.  The current recovery is exhibiting the quickest and the steepest recovery since the data series started in 1967.
 I also want to present an updated chart on the amount of money held in assets of zero maturity in the U.S. compared to the market value of the S&P 500.  MZM is now 97% of the market cap of the S&P 500.  There is $9.5 trillion sitting in cash and cash equivalents.  While this is not as extreme a percentage as last year when the market bottomed it remains far above the median level.  Despite the run up in the equity market and the recovering economy there remains about the same level of cash on the sidelines as at the peak in fear and uncertainty last year.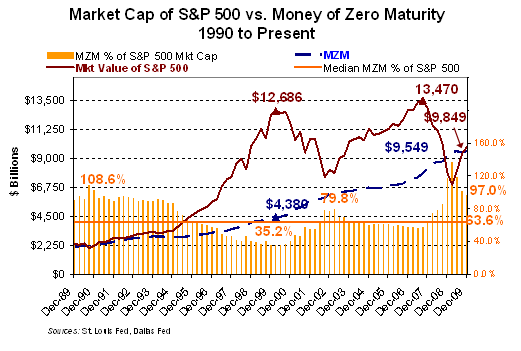 The point of highlighting the MZM level is to say that there is ample upside to the stock market and the economy once that cash begins to be more productively invested in the real economy.
 I believe we may be beginning to see some evidence of that reinvestment of cash into the markets in the following chart on cumulative breadth in the S&P 500 as prepared by Bespoke Investment Group.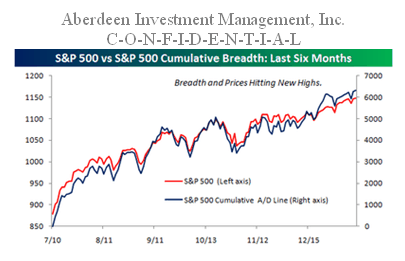 A bear case against the market would need to see the breadth (i.e. the cumulative number of advancing vs. declining stocks) breaking down.  One can plainly see that is not occurring at this time. 
 So . . . we have a sufficient number of energetic and vocal skeptics to prop up the proverbial "wall of worry" needed to sustain a bull market, a looming pile of catalytic data in the form of Q4 earnings reports, plenty of cash still poorly invested and persistent internal market strength suggestive of more buyers than sellers . . . that all seems to suggest we have more risk to the upside in stock market values in the near term.