General Market Comment: July 27, 2009
The market's recent climb has had many causal factors. One of those factors is the improving outlook for earnings. The improvement in July has been sharply upward as is clear in the following chart from Thomson Reuters as of July 27.
You don't need me to translate this move for you.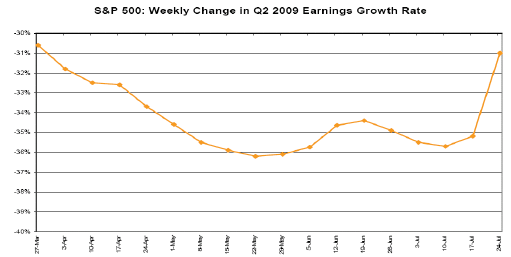 The reason for the sharp jump is simple – earnings have trounced analyst estimates – as we suspected –eh? Here is the comment from the Thomson Reuters report . . .
Of the 184 companies in the S&P 500 that have reported earnings to date for Q2 2009, 77% have reported earnings above analyst expectations.
The percentage of companies beating estimates is far above the historical average performance. The percentage of companies that beat estimates in Q1 was only 62%. While the percentage of companies beating estimates is very likely to drop as more companies report earnings it will remain a driver for the Street and institutional money to increase their earnings estimates to get more in line with the reality of emerging earnings strength . . . and get more heavily weighted in equities.
Despite all the great news on earnings and the rising market, the next move will very possibly be a pretty good bout of profit taking in coming weeks.